K-State Alumni Association welcomes Adam Walker, Ed.D., '04, '09 as its next president and CEO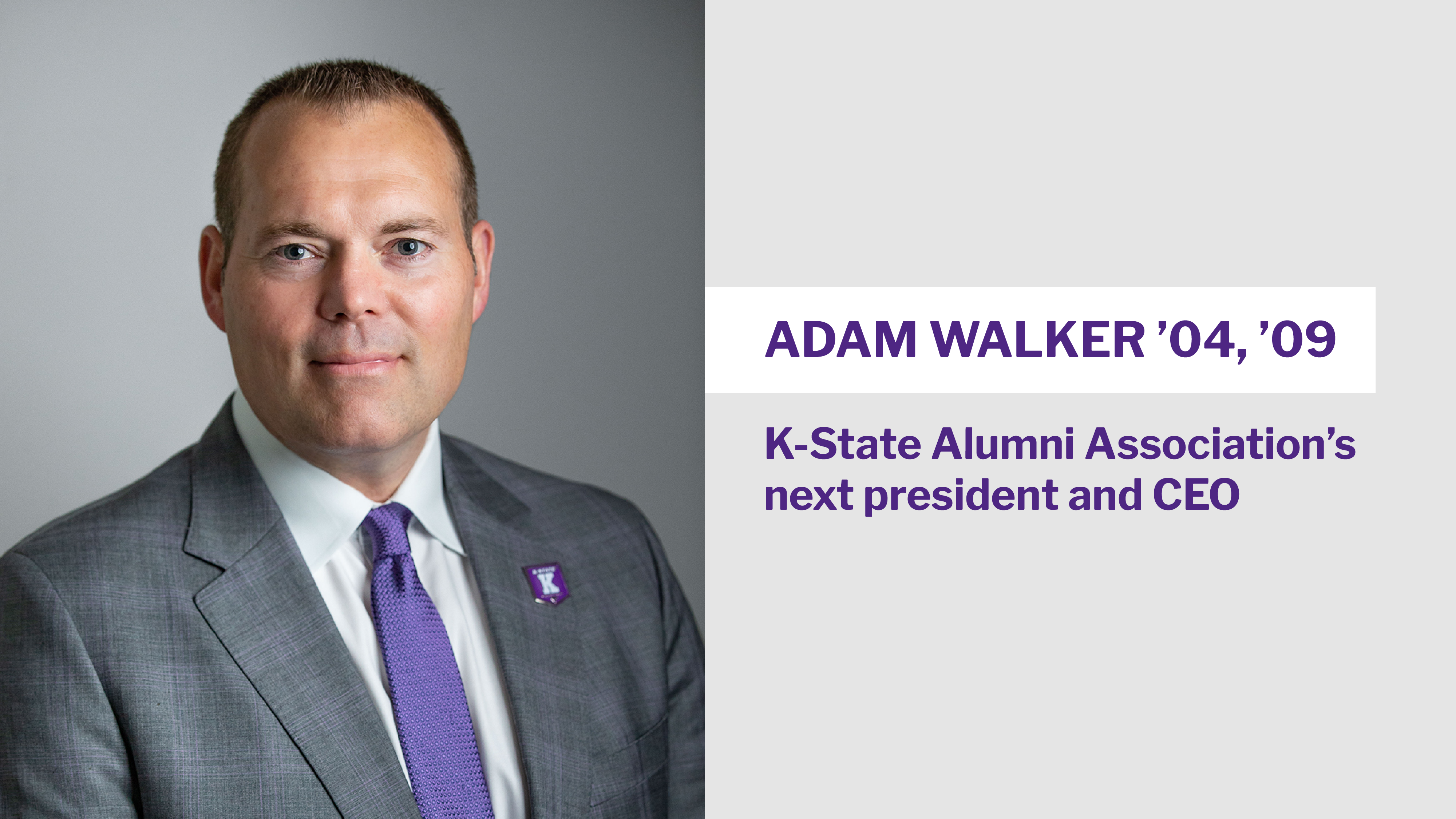 The K-State Alumni Association board of directors has named Adam Walker, Ed.D., '04, '09 the Association's next president and CEO. He will begin his duties July 24.
"It is an honor to welcome Adam and his family back to K-State. In his time since graduation, he has had a multitude of success in many facets of higher education and alumni engagement. His array of experience coupled with his knowledge and familiarity with K-State makes him an ideal leader to advance the Alumni Association," said Candace Hart Duncan '75, chair of the K-State Alumni Association board of directors.
In this role Walker is responsible for overall management and strategic planning of the Alumni Association. Walker is the staff liaison for the Association's board of directors and serves as secretary of the board. Additionally, he is a part of the Association's fundraising team.
As president and CEO of the Alumni Association, Walker will serve on the cabinet of K-State President Richard Linton.
"We are thrilled to welcome Adam back to Manhattan to return to his Wildcat roots," Linton said. "His passion for K-State runs deep, and the Association will be in great hands under his leadership."
A former student-athlete, Walker was a member of the K-State track and field team. His career culminated with a second-place finish in the weight throw at the Big 12 championships his senior year. Walker earned two degrees from K-State, a bachelor's degree in kinesiology in 2004 and a master's degree in counseling and student development in 2009. He completed his Doctor of Education from the University of Memphis. His dissertation entitled "Intercollegiate Athletics Success and the Financial Impact on Universities" was published in The Wall Street Journal, along with publishing several other peer-reviewed research articles thereafter.
"I'm thankful to our board of directors, including Chair Duncan, President Linton, along with the search committee for this remarkable opportunity to return home," Walker said. "K-State has always held a special place in my heart. From growing up in a Wildcat family in western Kansas, to competing as a student-athlete, to meeting my wife in Anderson Hall and getting married in the Alumni Center."
Walker brings a breadth of experience in fundraising and alumni relations having served three major universities.
He currently serves as executive associate athletic director for administration at the University of Memphis. In this role he provides leadership, oversight and management to various units within the Memphis Athletic Department, working in all phases of departmental management including communications with coaches, administration, Name, Image and Likeness, game and personnel contracts, corporate sponsorships, scheduling, budget, capital projects and policy and strategic planning, and he manages and directs all external units. He also is the sport administrator for the nationally ranked and prominent Memphis men's basketball program and men's and women's cross country and track and field programs. Additionally, Walker serves as the department's liaison to University Advancement and the University of Memphis Alumni Association while working collectively on external engagement for Memphis Athletics.
Under Walker's leadership, the Tiger Scholarship Fund, the development arm of Memphis Athletics, established a fundraising record of more than $24 million in 2022. Walker also continues to teach and research as an adjunct professor in the areas of higher education administration, sports management, business/finance and fundraising.
Prior to joining the Memphis Athletic Department, Walker was senior director of development for the Fogelman College of Business & Economics at the University of Memphis. During his tenure at the Fogelman College of Business, Walker was part of a team which completed the university's first comprehensive campaign, "Empowering the Dream," which totaled over $256 million in donations.
Walker also previously worked as associate athletic director for development at the University of Central Florida. During his tenure, he fundraised several six- and seven-figure gifts for athletics.
Walker began his professional career at K-State as an admissions representative. He then transitioned into a role as a development officer for the Carl R. Ice College of Engineering. While working for the College of Engineering, he was part of a team that completed the "Changing Lives Campaign," which raised more than $528 million, including over $90 million to engineering.
Walker and his wife, Rebecca, have two daughters, Addison Kay and Landree Adele. Rebecca, also a K-Stater, earned a bachelor's degree in public relations in 2008.
"I'm excited to elevate K-State and our Association to the next level with our proud alumni, students, university, friends, and extended community," Walker said. "As a life member, I recognize how our K-State Alumni Association plays a crucial role in advocating for all Wildcats, and I look forward to furthering that mission, growing our base, and enhancing these connections together."
---