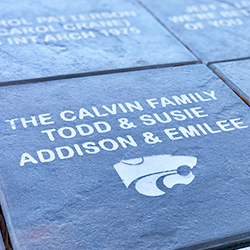 A paver at the K-State Alumni Center is the perfect way to honor your time at
K-State, to pay tribute to a special K-Stater in your life, to honor a loved one and so much more. The dark gray, slate pavers line the north terrace at the Center.

Pavers may be purchased for $600 each and are fully tax deductible.
Personalizing Your Paver
The 12" x 12" pavers will accommodate three lines of text with approximately 17 characters per line. If your preferred inscription does not meet those guidelines, please let us know. Exceptions can be made and we'll do our best to help you determine an inscription that will fit. Recently we have added the capability to add a Powercat to new pavers. If this is of interest to you, be sure to include that in the special comments on the order form.

A limited number of pavers are available and will be sold on a first-come first-serve basis.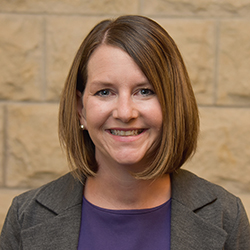 Questions?
Terin Walters '05
Assistant Vice President of Development and Communications
785-532-5052
---